Just for Redheads has been featured in several major and small town newspapers across the U.S. and abroad, as well as featured on television programs and magazines. Below is just a sampling of some of the media articles we received after we launched JFR in 1993.
---
LA Times Feature Article: Makeup for Redheads
Makeup for Redheads, The Natural Look
Naturally red hair is a rare commodity. Some scientists believe natural redheads account for less than 2% of the world's population, and geneticist Barry Starr, director of Stanford University's Stanford at the Tech Museum of Innovation, says that although Ireland and Scotland probably have the highest percentage of natural redheads, "The United States most likely has the highest number of redheads, but that's still just 2% to 5% of the population."
Paula Pennypacker founded the makeup company Just for Redheads in 1993. "I ran for mayor of Toledo, and when I saw myself on TV wearing black mascara, I thought that it looked too harsh and too garish. You want to look soft and approachable when you're out there shaking hands and greeting the public," she says. She says that redheads have special needs that weren't being met in the traditional market. So after the election she started Just for Redheads as a mail-order company with an auburn mascara. "And the rest is history," she says. Pennypacker says she wasn't sure whether she was the only one who didn't like black mascara. "Was I the only one who thought that it made us look like a hooker or a raccoon? I wanted to look natural in makeup. You know what my husband said when he met me? "Why do you have all of that beautiful red hair and those black lashes?'"
The resounding answer was that she wasn't the only redhead who preferred natural-looking makeup. Not only does Just for Redheads have 150 products and ship all over the world, but Pennypacker says her products have been requested for Sex and the City, the movie Bounce (for Gwyneth Paltrow) and a Harry Potter movie.
Her No. 1 seller is Ginger Henna colored mascara. Brow products and hair hennas are also top sellers. "You know Lucille Ball used to color her hair with henna," she says, adding that henna is great for covering gray.
Pennypacker grew up a natural redhead and says that it wasn't always easy. "I always thought of myself as this flat-chested, skinny redhead," she says. "I had very low self-esteem, and it wasn't until I graduated from college that I really started to look at the red hair as an asset. So I took a negative aspect of my youth and turned it into a company."
---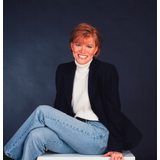 PEOPLE MAGAZINE - The JFR Story
By: Kate Klise, PEOPLE MAGAZINE July 27, 1998
SEEING RED:

Paula Pennypacker's carrot-top cosmetics catch fire
During their first date, on Valentine's Day, he gazed into her eyes at a romantic Italian bistro. But limpid pools, he confesses, were not what came to mind. "I'm looking across the table at this beautiful woman with flaming red hair," recalls Duane Abbajay, then a marketing manager for a Fortune 500 company, "when I noticed she has black eyes. So I said, 'Why do you have red hair and black lashes?'"
Luckily, Abbajay didn't end up wearing his spaghetti. "I wasn't insulted, because I knew he was right," says Paula Pennypacker, a former radio host who the year before had run for mayor of Toledo, Ohio. " I looked too harsh. Whenever I saw myself on TV, I thought, 'Ugh! that's not how I want to look.'"
It's just as well she didn't win the election. Capitalizing on the fact that most makeup colors weren't designed for the copper-topped, Pennypacker and Abbajay -- they wed in 93 -- launched Just for Redheads, a mail-order company that is now red hot. Offering some 300 products in tones ranging from Matte Toast lipstick to GingerRed mascara.
Just for Redheads is a registered trademark.
All Rights Reserved.
---
LA Splash
Description: Just for Redheads introduces their new Mascara Supreme Definition in two great shades and formulas. When only the best will do. Glides on with effortless coverage and elegance for the most discriminating redhead. Select either Henna Supreme Sensitive Eye, designed for those who wear contact lens or have sensitive eyes, or Spice Supreme Waterproof. Both shades will instantly add volume and length for perfect lashes every time.
Keraflex Synthetic Hair Extensions
Description: JUST FOR REDHEADS BEAUTY PRODUCTS INTRODUCES KERAFLEX FIBER HAIR EXTENSIONS For redheads, creating the same red-carpet look of long, glamorous hair has been close to impossible until now. That is why Just for Redheads teamed up with hair designer, Sonia DeMaria, from Milano, Italy, to design their new Hair so Fair line. * Go from long to short, down-do to up-do, in an instant * No heat! No glue! * Just snap, clip, and go. * Clip on and take off extensions - all by yourself JFR's Hair so Fair line starts at $19.00 for the Scrunchie, up to $98 for the Diva Extension. The entire Hair so Fair line and how-to video may be viewed on our Web site, www.justforredheads.com. The Scrunchie, Diva, and Medium Extension are available in shades other than reds and blonde, via special request at Just for Redheads. Price: 25.99 - 98.00
---
The Fashion Police: Beauty
Just for Redheads - a makeup line for... well, redheads!
A few weeks ago I found myself at the airport duty free shop with a few hours and few holiday euros to spare. "I know!" I thought. "I will buy me a lipstick! I SO need a new lipstick!" Did I get one, though? No, I did not. Why? Because I'm a redhead. And the cosmetic companies, they don't like to cater to the redheads. In fact, I think they might have conveniently managed to forget that we exist. That's why I'm so pleased to have discovered Just for Redheads. It's a makeup and skincare line designed - yes, you got it - just for redheads. The colours don't clash with our hair. The skincare is designed especially for our lily white skin. In short, it's just totally kick-ass cool. They even ship internationally..
---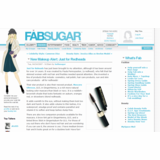 Fabsugar
Just for Reheads has just been brought to my attention, although it has been around for over 14 years. It was created by Paula Pennypacker, a redhead, who felt that fair skinned women with red hair and freckles needed special attention. She invented a line of products that include: cosmetics, nail polish, hair care products, sun and skin care products - all for redheads!
Their star product is also their newest product. Mascara Ultresse, $15, in GingerHenna, is a rich, more natural-looking color mascara than black or navy. It is a reddish brownish shade that looks fantastic on auburn, orangey red, or strawberry blond redheads.
It adds warmth to the eye, without making them look too dark and harsh. It also adds volume to thin lashes, it is waterproof, smudge proof and contains panethol and vitamin E to soften and keep lashes clump free.
There are also two companion products available for the mascara. A brow tint gel in GingerHenna, $15, and a tinted Brow Stick in GingerAuburn for $11. For those of you out there who don't have red hair and are wondering if you can use it, the answer is yes. I have medium brown hair and it looks great on for a daytime look! Have fun!
---
Actress Andrea Morris
Andrea Morris, Star of the Television Show 7th Heaven, Is a Fan!
"I just love JFR. This make-up looks so beautiful on redheads!" - Andrea Morris
---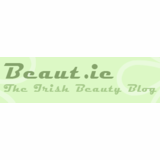 Beautie The Irish Beauty Blog
Published by Kirstie April 12th, 2007 in Eyes, Lips and Cheeks, Brands, treatment & product reviews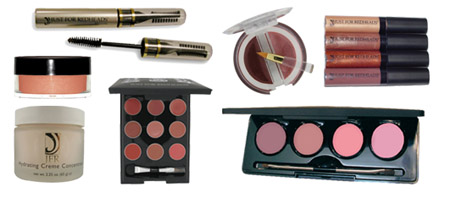 Finally! A website devoted to beauty products specially for gals out there with firey barnets. If you're a redhead, you've definitely got particular cosmetic needs you need to address - in general, redheads tend to be pale skinned so you need specific foundation products, and it can be hard to wear particular shades of shadow and gloss because of the potential clash-factor.
This website, justforreadheads.com, was set up specifically for you by a lady called Paula Pennypacker. She's a redhead herself, so she knows what works. The site sells a huge range of products specifically for redheads in shades that will suit. But the one thing I did notice about the range of colour choices is that they're generally pretty tame - a lot of taupes, browns, burnt orange and the occasional pink. Definitely playing on the classic side of the colour spectrum, which may be a bit disappointing for adventurous redheads.
And of course, you're all different, you flame-haired temptresses - so you can shop for looks for champagne and strawberry blondes, copper red and auburn hair tones too. Helpful!
You can also shop by product, and there are billions - cosmetics for eyes, lips and face, haircare, nail products and skincare are all available. Prices are reasonable, and shipping is available to Ireland.
---
eBeautyDaily
Paula Pennypacker (is that not the cutest name ever??) emailed me while I was out of town last week to tell me about her line of makeup that is - take a guess - Just For Redheads. Since I am not a redhead (this year, anyway), I know I am not the greatest person to try this out, but I thought I would let you know a little about it just the same. Some of my nearest and dearest are redheads, and I know they have always had issues with makeup colors. This is some info about their newest release, Volumizing Mascara in GingerHenna (sounds beautiful!). Please let me know if you have tried any of the Just For Redheads line, and what you think about it!
Mascara Ultresse in GingerHenna adds warmth to lashes without turning black on redheads. This volumizing formula is water resistant, as well as tear and smudge proof. Formulated and enriched with panthenol and Vitamin E to condition delicate lashes, making them soft and natural, while preventing clumps. JFR's exclusive lash comb and brush will also lift and separate lashes in one easy step.
"Finally a mascara that won't turn black on those of us with pale lashes," says Paula Pennypacker, founder of Just for Redheads. "I wish I would have had this mascara when I was growing up. It would have done wonders for my self-esteem."
JFR's Mascara Ultresses' companion brow products are also now available. Brush-a-Brow in GingerHenna ($15), and Brow Stick GingerAuburn ($11). According to Pennypacker, "Next to our mascaras, our brow products are our top sellers, as women who color their hair red also want their brows to match their new red hair."
Developed by redheaded entrepreneur Paula Pennypacker, the Just for Redheads line of beauty products addresses the unique needs of women with red hair, lighter complexions, sensitive skin and freckles. In its fourteenth year of business, Just for Redheads offers beauty products including makeup, nail polish, hair products, as well as sun-care and skin-care products.
---
Lifetime for Women
Paula was featured on a special program about Just for redheads on Lifetime for Women television.
The special covered Paula's background and the inception of JFR.
---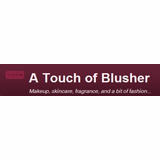 Just for Redheads: NOT Just for Redheads
Just for Redheads, as the name suggests, is a line specifically designed for those with red hair and fair skin. Makeup items such as black (or dark grey) mascaras, eyeliners, and eyebrow colors, can simply be too harsh-looking and dramatic for redheads. Warm and auburn hues, in this case, can better enhance the facial features without being overpowering.
If you share this concern, then these goodies might be what you are looking for.
Brush a Brow and Brow Stick (both in Ginger Auburn):
Brush a Brow is a velvety eyebrow powder that goes on smoothly and stays well, while Brow Stick is an eyebrow pencil that is softer than most others. It glides on very easily and creates natural and fluffy-looking brows (not that painted-on look).
The very warm brown tone is of course the main feature. It is that delicious milk-chocolate brown which softly enhances the brows.
Studio Mascara (in Ginger Henna):
What is great about this mascara is that no matter how much I layer it, it does not clump. Although it does not volumize the lashes like some others, it superbly defines, separates, and lengthens the lashes to create an effortlessly natural look.
Again, the warm brown tone is spot-on.
As I was trying on these colors, it appeared to me (who has dark hair and medium skin-tone) that they are not just flattering for people with red hair and fair skin. They are suitable for anyone that wants an ultra-natural warm look. I think what Just for Redheads has created are products that can give an understated and elegant radiance to your face.
The full Just for Redheads line also includes a complete range of makeup, foundation, skincare and haircare products.
---
BeautyNewsLA.com
We redheads are neither here nor there. Our eyelashes are blonde. Our eyebrows are not quite dark enough to be a true brown, and we're generally pale as hell. It's a tough life, being red.
Enter Just for Redheads, a brand of beauty products made for us gals who can stop traffic but can't find anything to match our coloring. My favorites of the line were the Mascara, which thickened my eyelashes and colored them dark brown, and the T.V. Touch Concealer. This is the first concealer that is actually as light as I am, and did not turn me orange. The products have staying power, too - the lipsticks lasted a solid three hours!
---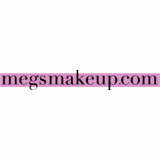 Megsmakeup.com: Just For Redheads!!
When our favorite copper Penny from Just For Redheads contacted me about her products specifically designed for the fiery hued I thought of our great reviewer Megadam. She always has such great comments and her tresses are a gorgeous red! Like I expected, Megadam was interested!! From one redhead to any of our redhead readers, find out if Just For Redheads is your new go-to product! - XOXO Meg
Sure, the statistics say that only 1% of the population is a natural redhead and that the approximately 15% of ladies you see with red/auburn/strawberry hair are chemically enhanced. Nonetheless, we are hot and very special so I'm sure you will agree it is about time there was a company that delivered some makeup in the color palettes that are flattering to the titan-haired beauties of the world.
I'm sure any ladies out there with red hair/fair skin, natural or not, can relate to the frustrations of trying to find some makeup shades that are not too dark (for brunettes) or too light (for blondes). I especially have problems with eyebrow pencils/powders. I own at least seven eye brow pencils and powders - ranging from drugstore brands to Chanel that I can't wear because the shade is just not right. Correctly done eyebrows can really enhance a girl's look. Linda Evangelista was quoted as saying her supermodel career didn't really take off until she figured out how to frame her face correctly with her eyebrows. So when I received the Just For Redheads package in the mail from our own beauty and fearless makeup leader Meg, I was thrilled to see an auburn eyebrow pencil and also powder-based eyebrow enhancer. There was also a mascara, but I'll get to that in a second. I just am too excited about the eyebrow cosmetics.
When I started using the Just For Redheads cosmetics, my hair was a light auburn, which I recently had darked to a deeper red. This pencil from Just For Redheads is the perfect shade and consistency. It goes on smoothly, blends beautifully, and most of all it looks natural so I don't have any of the dreaded telltale pencil line like my Aunt Mabel had. It looked totally natural with both my lighter and darker red hair. The other eyebrow cosmetic in the powder-based compact was great as well - it was a more neutral light brown which is perfect for any type of coloring and is good for less dramatic looks. Another big plus to these eyebrow cosmetics - they stayed put after 18 holes of golf - and this is always the ultimate test for me.
I also tried the Just For Redheads mascara. I admit that I am a mascara junkie - I can't live without it and I'm willing to pay just about anything for it. I really liked the Just For Redheads mascara in the auburn shade - I have never tried a mascara that had reddish tones like this, and it was much lighter than the Blackest Black Noir I usually wear, but I was quite pleased with the result. This mascara really lengthened and thickened my lashes without clumps, and the lighter color looked really natural. It also had a very useful comb and brush combo and the end of the wand, which made my lashes look all the more natural.
A few days after doing my brows and eyelashes with the Just For Redheads cosmetics, I was out for dinner with my man at a restaurant we frequently eat at, and our server who waits on us often, asked me what I had done - she said I looked great and "really pretty."
If you are a redhead, you should really try these products!
Some fun facts about redheads
1. We are more sensitive to pain, and need more anesthesia than the general population
2. Was considered the "hair color of beauty" in the middle ages

---
Canadian Beauty
I wouldn't know this myself but I've been told that redheads sometimes have trouble finding the right colours of makeup - be it eyeshadow or lip gloss - to go with their skin tone and hair colour. It's not that the right colours don't exist out there, it's that out of all the colours available it's hard to find those that are best suited for those with red hair. Well, there's now a company that can help you figure out which colours to use - it's called Just for Redheads.
I haven't tried the whole line, but from what I know, their quality is excellent. The lip gloss that I used was probably one of the smoothest I've ever tried - I forgot that I was even wearing it! The colour was beautiful and wasn't overly shimmery or glittery. If you have red hair, check out the company and their products!